Fiery Prawn & Avocado Garlic Bread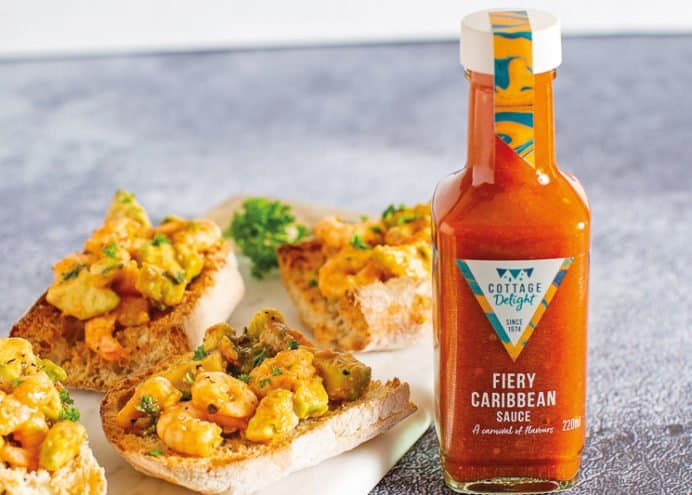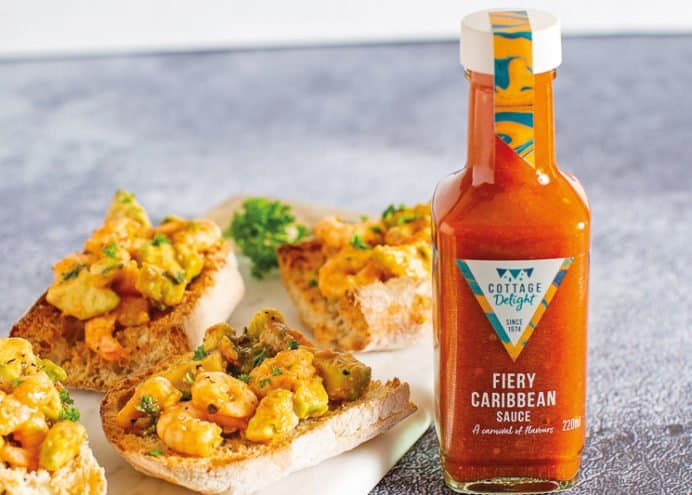 Introduction
Prep time

20 minutes

Cooking time

10 minutes

Serves

Serves 1

Summary

Crunchy garlic ciabatta meets a simple and easy to make king prawn and avocado topping to create a simple appetizer, lunch or snack.

Ingredients:

King prawns
1 avocado, sliced
2tsp garlic
1 lemon, juice of
Handful fresh parsley
75g garlic butter
Salt
1 loaf ciabatta, sliced
Cooking Method
Spread a layer of garlic butter on each ciabatta slice. On a baking tray greased lightly with oil, add the ciabatta slices and cook under the grill on a medium high heat until golden.

Combine the garlic, half of the lemon juice and all of the prawns in a bowl and season with salt.

In a large frying pan add a splash of olive oil and cook the prawns for around 3 minutes on each side, until cooked through. Remove from the heat and sprinkle through the parsley.

In a bowl, combine the avocado, tomato, the remaining lemon juice and a pinch of salt, mix thoroughly. Add the cooked prawns and Fiery Caribbean Sauce, folding through gently. Top the ciabatta slices to serve.
Other recipes for your Fiery Caribbean Sauce
Don't have Fiery Caribbean Sauce?
If you don't have any of the key Cottage Delight ingredients but love the recipe, perhaps you have one of these tasty alternatives in your kitchen cupboards instead?