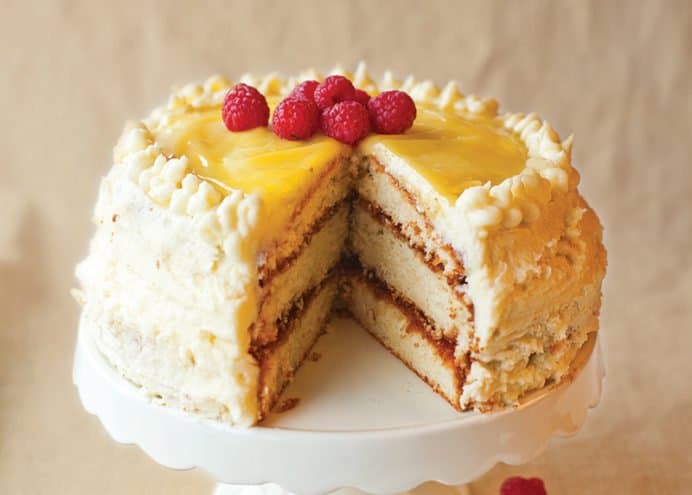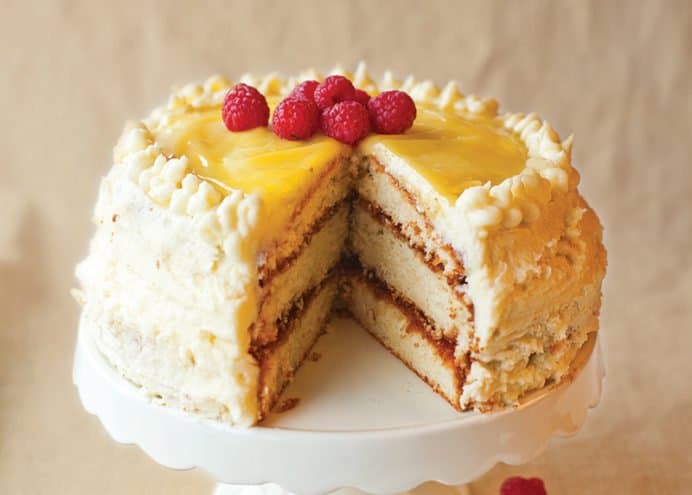 Introduction
Summary

Topped with homemade creamy lemon curd frosting to create the perfect cake.

Ingredients:

200g self-raising flour
200g softened butter
200g caster sugar
1 tsp baking powder
4 beaten eggs
2 tbsp milk
240g softened butter
380g icing sugar
Fresh Raspberries
2 tbsp extra Our Classic Lemon Curd for decorating the top of the Raspberry Lemon cake.
Cooking Method
For the Raspberry Lemon curd cake

Heat oven to 180C/fan 170C/gas 5. Butter three 20cm sandwich tins and dust flour around the edges to help prevent the cake from sticking.

In a large mixing bowl, add the first 7 of the lemon cake ingredients and beat together until you have a soft smooth batter.

Equally divide the mixture between the three cake tins and bake for about 20 mins, until the sponge is golden. Turn the cakes out onto a cooling rack and leave to cool completely.

Use the Zingy Raspberry Jam to generously add thick layers of our Seedless Raspberry Extra Jam in between the sponge tiers. Sandwich all three together.

Method for the Lemon Curd frosting

Beat the butter in a large bowl until soft. Add the icing sugar, beat again until smooth, add 2 tbsp Our Classic Lemon Curd and beat the mixture until creamy and smooth. (Beat in a little milk, if necessary, to loosen the mixture.)

Spread the remains of the Our Classic Lemon Curd over the top of the cake then cover the cake in the frosting, spreading around the edges, decorate the top of the cake with fresh raspberries.
Other recipes for your Zingy Raspberry Jam
Don't have Zingy Raspberry Jam?
If you don't have any of the key Cottage Delight ingredients but love the recipe, perhaps you have one of these tasty alternatives in your kitchen cupboards instead?