Cheese Board Classics Hamper
SKU: CD820011
Reviews
Sale!
Fantastic favourites
A classic hamper. Filled with chunky chutneys, and perfect pickles. This Cheese board classics hamper is a great gift for someone who loves cheese. Each punchy accompaniment is filled with complimentary flavours for hard and soft cheeses.
Our Cheese board Classics Hamper Includes: 
Pass the cheese
Our recipe is bursting with fruity berries, rhubarb, and plums with crunchy carrots and onions for a finely textured treat.
Serve with a selection of cheeses or add to homemade quiche.
Rich, dark & irresistible
We take our time with this recipe, slowly caramelising fresh onions for hours in oak-aged balsamic vinegar.
Stir through gravy for a rich flavour or perfect for sausage roll fillings.
Traditionally British
We fill this recipe to bursting with crunchy chunks of garden vegetables and a splash of proper country cider.
A perfect addition to the stock of a casserole or on your favourite cheese and ham sandwich.
Cheer up your cheese
We combine British Bramley apples with crunchy walnuts to create a chutney that's a little nutty and extra fruity.
The perfect chutney for any cheese board, equally wonderful as a glaze for pork chops.
True classics
Created to a traditional recipe by an award-winning Scottish family baker, delightfully delicate biscuits are perfect for pairing with cheese.
Explore our full range of Christmas Food, Festive Accompaniments, and Drinks
Minimum Shelf Life: 6 months from delivery
Ingredients
Classic Cheese Maker's Pickle
Cheese Maker's Pickle with Rhubarb and Blackberries.
Demerara sugar, Cider vinegar, Carrots, Onions, Rhubarb (10%), Golden syrup, Blackberries (7%), Plums (7%), Blackcurrants (7%), Worcestershire sauce (Water, Spirit vinegar, Sugar, Onion, Salt, Tamarind paste, Ginger, Garlic, BARLEY malt extract, Cloves), Concentrated tomato purée, Spices.
Caramelised Onion Chutney
Onion (51%), Sugar, Balsamic vinegar (Wine vinegar, Grape must, Colour: SULPHITE ammonia caramel, Preservative: SULPHUR DIOXIDE), Muscovado sugar, Sunflower oil, Spices, Concentrated lemon juice, Garlic powder, Acidity regulator: Citric acid, Salt.
Scottish Oatcakes
OATMEAL (63%), Vegetable oils (Palm*, Rapeseed), WHEAT flour (Contains Calcium carbonate, Iron, Niacin, Thiamin), Sugar, Salt, Raising agents: Disodium dihydrogen diphosphate; Sodium bicarbonate.
*Palm oil from a certified sustainable source
Classic Cheese Board Chutney
Cheese Board Chutney with Apples, Raisins and Walnuts.
Bramley apple (40%), Sugar, Cider vinegar, Raisins (5%), WALNUTS (3%), Gelling agent: Fruit pectin, Stem ginger, Salt, Ground ginger.
English Country Cider Chutney
Demerara sugar, Apple, Malt vinegar (from BARLEY), Green beans, Cauliflower, Dates (Contain Rice flour), Dried onion flakes, Raisins, Cider (2%), Gelling agent: Fruit pectin, Salt, Spices, Garlic powder, MUSTARD flour.
Nutritional (per 100g).
Classic Cheese Maker's Pickle

Energy

867kJ/205kcal

Fat

0.2g of which saturates 0.0g

Carbohydrate

47.0g of which sugars 46.1g

Protein

1.4g

Salt

0.5g

Caramelised Onion Chutney

Energy

1122kJ/264kcal

Fat

1.4g of which saturates 0.2g

Carbohydrate

60.9g of which sugars 58.4g

Protein

1.2g

Salt

0.3g

Scottish Oatcakes

Energy

2050kJ/488kcal

Fat

21.6g of which saturates 6.0g

Carbohydrate

65.8g of which sugars 4.6g

Protein

6.6g

Salt

1.8g

Classic Cheese Board Chutney

Energy

934kJ/219kcal

Fat

3.1g of which saturates 0.2g

Carbohydrate

46.6g of which sugars 46.5g

Protein

1.0g

Salt

1.3g

English Country Cider Chutney

Energy

762kJ/180kcal

Fat

0.3g of which saturates 0.1g

Carbohydrate

41.9g of which sugars 40.9g

Protein

1.3g

Salt

1.5g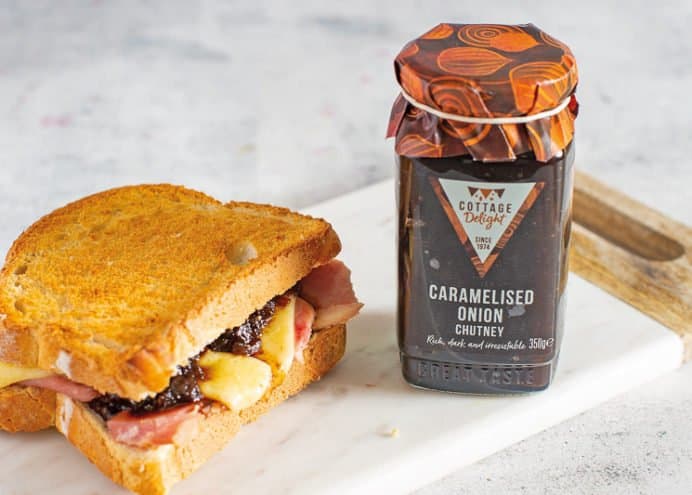 Brie and Pecan Topped Toasts
Instructions
Prep time

10 minutes

Cooking time

5 minutes

Serves

Serves 4

Ingredients

4 medium thick slices of bread
4 handfuls of rocket
125g Brie, thinly sliced
Salt and pepper
20g pecan nuts, chopped
200g cherry tomatoes
View full recipe
Instructions
Prep time

5 minutes

Cooking time

45 minutes

Serves

Serves 4

Ingredients

700g broccoli, chopped
55g unsalted butter
1tbsp plain flour
1 onion, chopped
250ml milk
300g Cheddar cheese
1 egg, beaten
View full recipe