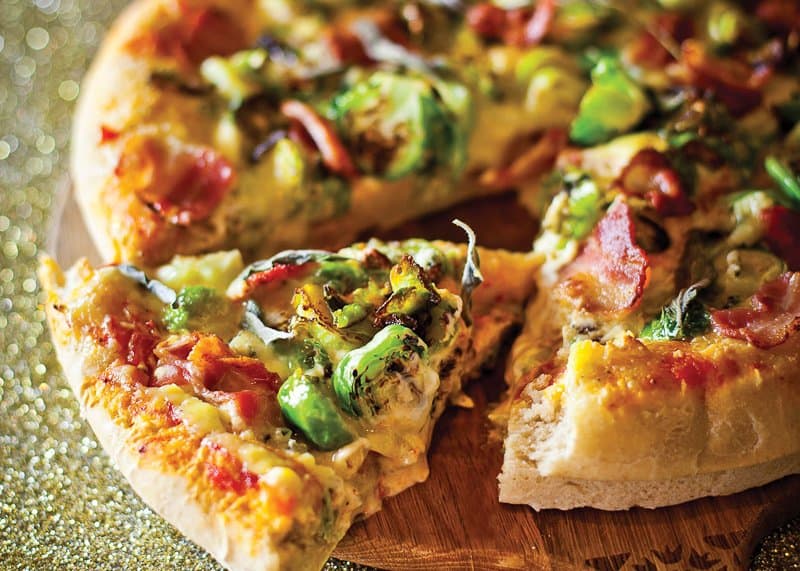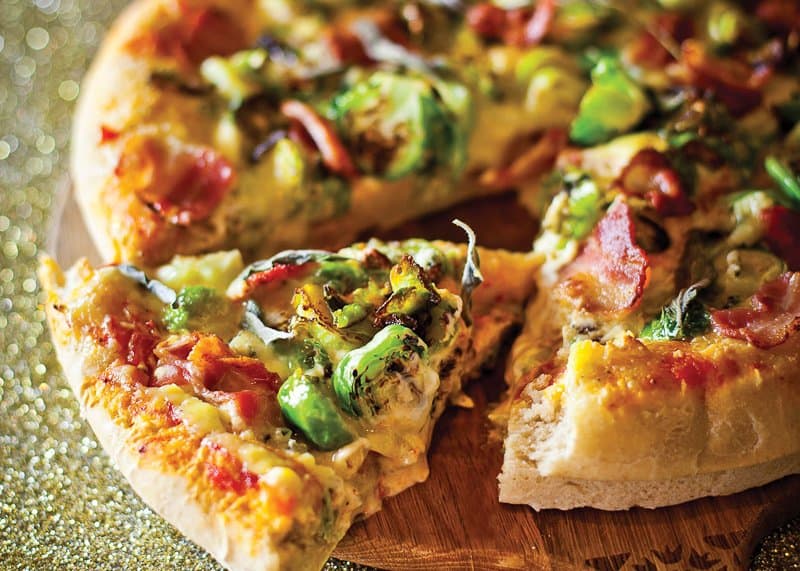 Introduction
Prep time

40 minutes (plus proving time)

Cooking time

20 minutes

Serves

Serves 4

Summary

A great way to use up left over sprouts

Ingredients:

250g ciabatta bread mix
1½ tbsp olive oil
Plain flour, for dusting
6 rashers smoked streaky bacon, roughly chopped into large pieces
250g brussel sprouts, trimmed and thickly sliced
75g blue cheese
Small handful sage leaves, large leaves torn
Small knob of butter
2 garlic cloves, crushed
200ml double cream Good grating of nutmeg
Cooking Method
To make the pizza dough put the bread mix in a large bowl, pour over ½ tbsp Cottage Delight olive oil and 175ml lukewarm water. Stir until a dough is formed, then tip out onto a lightly floured surface and knead for 5-10 mins until smooth. Rub the bowl with a little oil, pop in the dough, cover with cling film and leave to rise in a warm place for 45 mins or until doubled in size.

Meanwhile make the pizza topping by heating ½ tbsp olive oil in a large frying pan over a medium heat. Add the bacon and cook until just starting to crisp. Remove with a slotted spoon and drain on kitchen paper. Add another drizzle of Cottage Delight Olive Oil to the pan, then tip in the sprouts, season and cook for 3-4 mins until softened and starting to caramelised around the edges. Set aside

To make the white sauce melt the butter in a small pan, add garlic and let it sizzle gently for 30 seconds. Pour in cream, grate over some nutmeg, season and simmer for 5 mins until thickened and reduced.

Heat oven to 220°C/fan 200°C/gas 7 and pop in the pizza tray. Carefully remove the dough from the bowl using your hands or a rolling pin and shape the dough into a rough circle 30-35cm in diameter. Transfer to the hot tray and cook for 4 mins. Remove from the oven and spread a thick layer of Red Pepper & Roast Garlic Salsa, then cover with the white sauce and scatter with sprouts, bacon and Dovedale Blue by Staffordshire Cheese. Toss the sage leaves with the remaining Cottage Delight Olive Oil and scatter over the pizza. Cook for 5-10 mins until the dough is golden brown and the top is bubbling. Grind over some black pepper before serving.
Don't have Red Pepper & Roast Garlic Salsa?
If you don't have any of the key Cottage Delight ingredients but love the recipe, perhaps you have one of these tasty alternatives in your kitchen cupboards instead?