Duck Breast with Apricot Sauce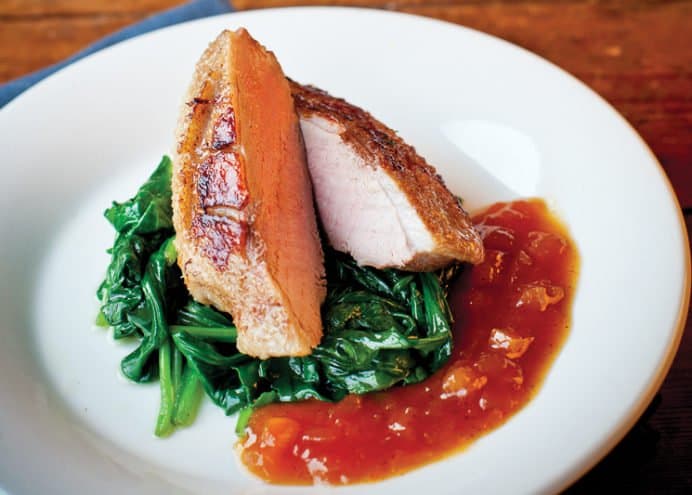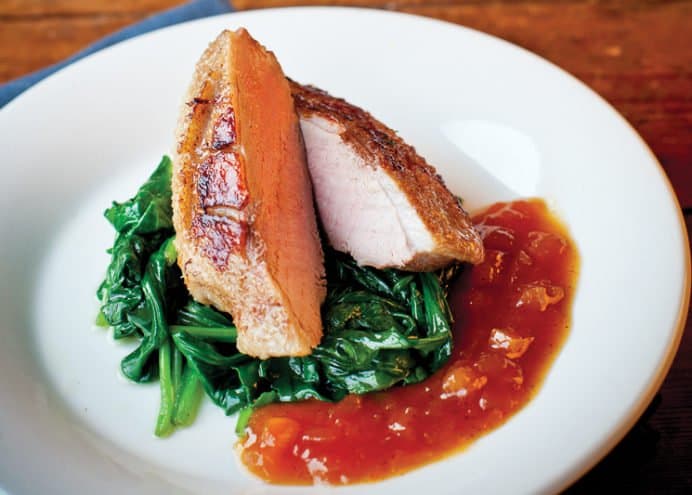 Introduction
Summary

A simple savoury recipe that produces a wonderful combination of flavours.

Ingredients:

2 duck breasts
Sea & Pepper to taste
1 sprig of fresh thyme
50g butter
200g spinach
40mls of water
Cooking Method
Heat the oven to 180C/ 160C fan/gas 4. Score the skin of each duck breast and season well.

Heat a frying pan and place the duck breasts in the pan, skin-side down.

Fry together for 6-7 minutes, adding the thyme and half the butter. Allow the butter to melt and baste the duck with the juices.

In a separate pan, fry the spinach with the remaining butter until wilted.

Remove the duck from the pan and place on an oven proof tray. Finish in the oven for 5-6 minutes. Remove from the oven and baste again with the juices. Least to rest for 5 minutes.

Add 4 tbsp of Classic Apricot Chutney to a small pan with 40ml of water, heat the chutney until lightly simmering.

Slice each duck breast in half, arrange on a plate along with the spinach and spoon the apricot sauce around the duck to serve.
Other recipes for your Classic Apricot Chutney
Don't have Classic Apricot Chutney?
If you don't have any of the key Cottage Delight ingredients but love the recipe, perhaps you have one of these tasty alternatives in your kitchen cupboards instead?