Great Taste Champions
SKU: CD800051
Reviews
Triumphant Taste
A perfect pair of Great Taste Award-winning flavours, packed full of quality ingredients for delectable flavour. Our Great Taste Champions includes a duo of chutneys that are the perfect accompaniment to any cheeseboard or sandwich.
Great Taste Champions Includes:
We take our time with our Caramelised Onion Chutney. Slowly caramelising fresh onions for hours in oak-aged balsamic vinegar and a special blend of spices. Serve our Caramelised Onion Chutney with pork pies and on a cheeseboard. Alternatively, stir through gravy for a gourmet sausage & mash, or great as a sausage roll filling.
This recipe is bursting with fruity berries, rhubarb, and plums. Along with crunchy carrots and onions for a finely textured treat. Serve with a selection of cheeses or add to homemade quiches as well as with your favourite cold meats and pork pies.
Explore our full range of Christmas Food, Festive Accompaniments, and Drinks
Minimum Shelf Life: 9 months from delivery
Ingredients
Caramelised Onion Chutney
Onion (51%), Sugar, Balsamic vinegar (Wine vinegar, Grape must, Colour: SULPHITE ammonia caramel, Preservative: SULPHUR DIOXIDE), Muscovado sugar, Sunflower oil, Spices, Concentrated lemon juice, Garlic powder, Acidity regulator: Citric acid, Salt.
Classic Cheese Maker's Pickle
Cheese Maker's Pickle with Rhubarb and Blackberries.
Demerara sugar, Cider vinegar, Carrots, Onions, Rhubarb (10%), Golden syrup, Blackberries (7%), Plums (7%), Blackcurrants (7%), Worcestershire sauce (Water, Spirit vinegar, Sugar, Onion, Salt, Tamarind paste, Ginger, Garlic, BARLEY malt extract, Cloves), Concentrated tomato purée, Spices.
Nutritional (per 100g).
Caramelised Onion Chutney

Energy

1122kJ/264kcal

Fat

1.4g of which saturates 0.2g

Carbohydrate

60.9g of which sugars 58.4g

Protein

1.2g

Salt

0.3g

Classic Cheese Maker's Pickle

Energy

867kJ/205kcal

Fat

0.2g of which saturates 0.0g

Carbohydrate

47.0g of which sugars 46.1g

Protein

1.4g

Salt

0.5g
2 for £7.99 Delicious Duos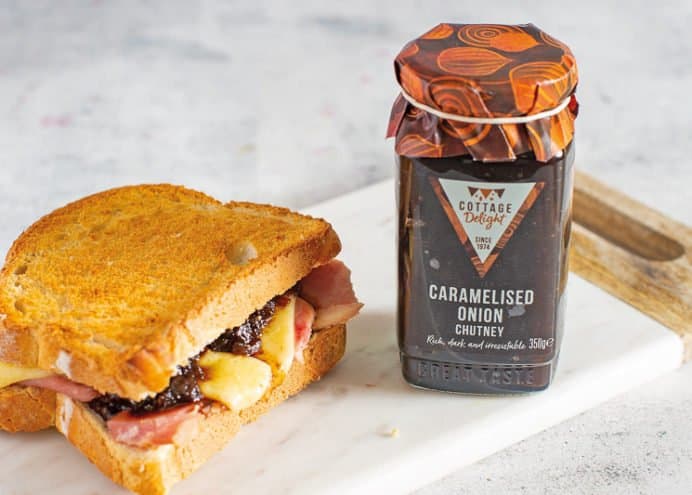 Sausage and Caramelised Onion Chutney Parcels
Instructions
Ingredients

200g of good quality sausage meat
1 packet of ready rolled puff pastry
Flour, for dusting
1 egg beaten
View full recipe
Apple, Walnut & Feta Salad
Instructions
Prep time

15 minutes

Serves

Serves 2

Ingredients

200g mixed salad leaves
1 red apple, chopped
1 green apple, chopped
125g walnuts, chopped
50g feta cheese, crumbled
50g dried cranberries
150ml apple juice
4 tbsp apple cider vinegar
View full recipe